The Tarantula Curve method is a tool used to analyse and optimize aggregate gradings in concrete. This method was developed in the US specifically for use with concrete pavements. This was based on research undertaken in the US of more than 500 different concrete mixtures assessing each for workability suitable to laying concrete pavements.
The CivilWeb Grading of Aggregates in Concrete Analysis spreadsheet includes the Tarantula Curve method along with two other methods to allow the designer to fully analyze the suitability of the proposed grading of aggregates for a concrete mix. This powerful analysis tool can be purchased directly at the bottom of this page for £5 or is included in the Concrete Properties Suite for only £10.
Aggregate gradings in concrete are important to ensure that the fresh concrete is sufficiently workable without the addition of excessive volumes of water. A well graded aggregate mix will remain workable at low volumes of water increasing the strength and/or decreasing the cement content and therefore the cost of the concrete.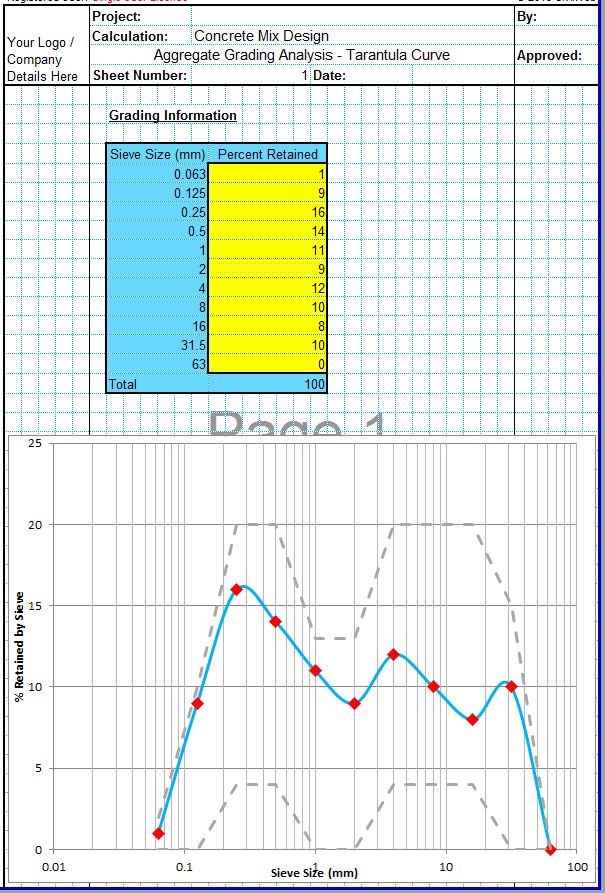 Tarantula Curve Method
The recommended limits for the various sieve sizes should resemble the profile of a tarantula as shown in the below chart. If the proposed aggregate grading falls between the maximum and minimum recommended levels then the grading is suitable for use in concrete pavement works.
The graph with recommended limits is reproduced below.
Tarantula Curve Method Limitations
The Tarantula Curve method was specifically developed for use with concrete pavements in the US. These pavements are installed using specialist pavement laying equipment and often do not include any confinements at the edges of the slab. This means that the concrete used must be of low workability which may not be suitable for uses other than machine laid concrete pavements.
Even concrete pavements laid using other traditional techniques may require a more workable mix which will exclude some of the gradings included within the Tarantula Curve. The Tarantula Curve is very useful for machine laid concrete roads and pavements. However it is not recommended for alternative uses other than as a guide.
The CivilWeb Grading of Aggregates in Concrete Analysis spreadsheet includes a Tarantula Curve Method tool which will plot the grading on the tarantula curve chart so the user can assess the suitability of the gradation.
The tool also includes two complimentary analysis techniques along with the Tarantula Curve method, the 0.45 Power method and the Coarseness Factor Chart method. All for only £5.
Download Free Trial Version
To try out a fully functional free trail version of this software, please enter your email address below to sign up to our newsletter.
Other Concrete Design Spreadsheets;